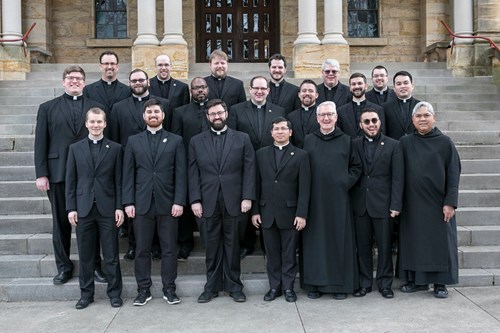 Congratulations to the Ordination Class of 2019
Deacon Sean Aaron, Diocese of Lafayette-in-Indiana;
Deacon Gregory Marc Bentley and Deacon Aldrin Tayag, Diocese of Lexington, KY;
Deacon Ross Caniglia and Deacon Timothy Pick, Diocese of Sioux City, IA;
Deacon Anthony Cecil Jr. and Deacon Steven Reeves, Archdiocese of Louisville, KY;
Deacon Timothy DeCrane and Deacon Vincent Gillmore, Archdiocese of Indianapolis, IN;
Br. Damien Evangelista, OSB, Prince of Peace Abbey, Oceanside, CA;
Deacon Patrick Gilbreath, Archdiocese of Mobile, AL;
Deacon Luke Hassler and Deacon Andrew Thomas, Diocese of Evansville, IN;
Deacon John Herrera III, Archdiocese of Oklahoma City, OK;
Deacon Jonathan Miskin, Diocese of Little Rock, AR;
Deacon Kirt Prospère, Diocese of Bridgetown, Barbados;
Deacon Mark Schuster, Diocese of Knoxville, TN;
Deacon Kenneth Wandera, Glenmary Home Missioners.
At Saint Meinrad Seminary and School of Theology, we prepare courageous, loving and hope-filled servant leaders for the Catholic Church. We take seriously our responsibility of educating the Church's future leaders and to continue this important work, we need your help.
With your financial support, you join us in bringing God's love and hope to the world through the ministry of priests, permanent deacons, and lay ministers.