We produce a quarterly print newsletter, On the Hill, and an e-newsletter to help you stay informed of the happenings at Saint Meinrad.
On the Hill
Highlights from the Winter 2023 Issue
Br. Giles Mahieu dies on October 25
Chapter Room: The Art of Monastic Life
New year of preparation added to seminary studies
Young Adult Initiative enters Phase 2
E-Newsletters
Sign up for our E-Newsletters
Sign up now for Saint Meinrad's free e-newsletter. Every few weeks, a free newsletter will appear in your email's inbox, with short items of interest about upcoming events, recent news and links to further information on Saint Meinrad's website.
You can subscribe or unsubscribe at any time.
Please note: Saint Meinrad does not sell or otherwise disclose email addresses to other individuals, companies or institutions.

You are also welcome to sign-up to receive updates on products and sales from Saint Meinrad Archabbey businesses:

Abbey Caskets
Abbey Caskets products are built in our on-site workshop and by local craftsmen. All proceeds support the prayer and works of the monks of Saint Meinrad Archabbey.

Subscribe Now

CareNotes
CareNotes offers inspirational booklets on a variety of topics to help individuals heal mind, body and spirit.

Gift Shop
Inspirational and religious gifts that support the work and prayer of the monastery.

Annual Report of Stewardship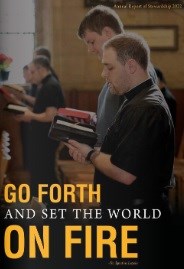 Our 2022 annual report of stewardship highlights the lifelong formation offered by Saint Meinrad.