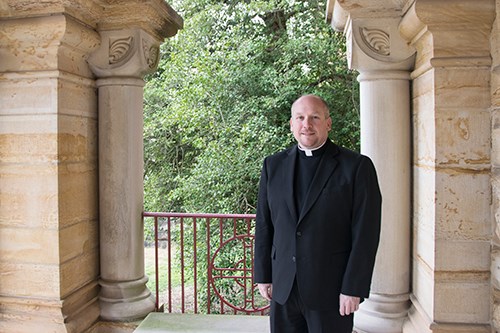 Fr. Chris House attended Saint Meinrad College for three years, but that time on the southern Indiana campus was formative for his priestly vocation.
"I had talked about priesthood since I was in second grade," he recalls. But as a senior in high school, he began dragging his feet. Other voices crowded in with ideas of what else he could do. He settled on attending a junior college in his hometown of Springfield, IL.
The following year, he decided to enroll at Saint Meinrad. "I still remember the first time I arrived on the hill. It was the end of September in 1994 ... I remember just being awestruck," he says. "It was very clear to me in that moment that this was a place that I wanted to be.
"Back then ... I felt God was calling me to be a priest, but coming to Saint Meinrad made that 'yes' a lot easier."
His family laid the groundwork for his priesthood. "My parents were the first who taught me how to pray; they were my first teachers. While they created the foundation, Saint Meinrad really built on that," he says.
After college graduation, Fr. Chris attended Mundelein Seminary in Illinois, studying for the Diocese of Springfield. He was ordained in 2002, although he continued his studies for another year to earn his license in sacred theology.
Since becoming a priest 16 years ago, Fr. Chris has had a variety of parish and diocesan ministries. His list of assignments includes at least 10 parishes as well as various leadership roles for the diocese.
The diocese also sent him to The Catholic University of America to study canon law. Earning his license in 2015, Fr. Chris has served as judge for the diocesan tribunal ever since.
Currently, he is the chancellor of the diocese and vicar judicial, rector of the Cathedral of the Immaculate Conception, director of the Department for Canonical and Pastoral Services, and section prior for the Equestrian Order of the Holy Sepulcher of Jerusalem.
After Fr. Chris' ordination, the diocese asked him to make a will. He decided to include a gift to Saint Meinrad as part of his bequest. "To me, it was a no brainer," he says. "I can never give back for what I have been given, honestly.
"So much of who I am is because of what I experienced and what I still receive from Saint Meinrad ... I want others to have the gift that I was given."
Even his decision to earn a license in sacred theology had its roots at Saint Meinrad. While he was a college student, he remembers watching Fr. Julian Peters, OSB, serve as master of ceremonies for liturgies in the Archabbey Church. When Fr. Chris took on that role for his diocese from 2005 to 2011, he used Fr. Julian as his model.
And he still maintains friendships with the guys he studied with and with the monks who formed him during his college years. "Saint Meinrad has always been home, even though it's been 21 years since I graduated from there."
Fr. Chris also gives back to Saint Meinrad through his service on the Board of Overseers, the 28-member board that advises the President-Rector on matters relating to the Seminary and School of Theology.
As a member of student government while attending the College, Fr. Chris recalls that he would attend the Overseers meetings to take part in a committee or give a report. "I never would have imagined 20 years ago that I would be asked to be on the board," he says.
It's easy for Fr. Chris to encourage others to consider a gift to Saint Meinrad through a bequest. A gift to Saint Meinrad is a gift to the Church, he says. "It's just not about training men for priestly formation. It's men who are discerning the diaconate. It's lay women and lay men who are seeking to do ministry in the Church. It's working with youth in the Church through 'One Bread, One Cup,' all the way to those who simply need to get away for a three-day retreat.
"Saint Meinrad touches so many different aspects of the Church's life and the lives of so many different people within the Church. That's why supporting its work is so important to me and why I want others to support it as well."