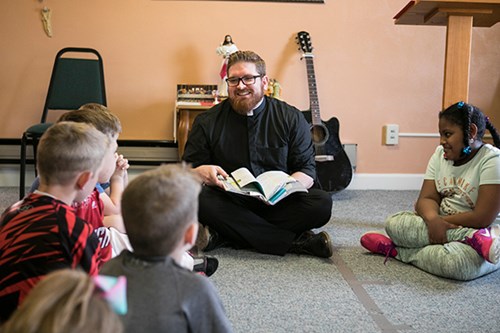 "I'm not the man I was when I entered seminary – all for the good," explains Deacon Michael Bialorucki, a fourth-year seminarian from the Diocese of Toledo, OH.
"God is calling me to be the priest only I can be. My professors and formation staff have always seen something in me I haven't always seen in myself. They challenged me, pushed me and urged me to grow into the person God created me to be."
After seven years of seminary education founded on the pillars of human, pastoral, spiritual, and academic formation, Deacon Bialorucki is headed toward ordination to the priesthood not only well versed in scripture and tradition, but also as an authentic ambassador of Christ's love ready to journey with others during the most important parts of their lives.
"As a seminarian and a deacon, I've had the opportunity to be with people during significant moments in their lives – a child's baptism, a wedding – and it's humbling that God chose me to be His presence in those moments.
"Saint Meinrad has reminded me that the world has a Savior and I'm not him. I can't do my priesthood alone. Ministry is a partnership and lay people have a critical role to play. I'm excited to start full-time parish ministry and help others in a meaningful way as part of a whole."
At Saint Meinrad Seminary and School of Theology, we form authentically human, prayerful, pastoral, and gifted priests, permanent deacons, and lay ministers. Will you help us continue this important work on behalf of the Church? Your gift is not only an investment in Saint Meinrad; it's an investment in the people of God.