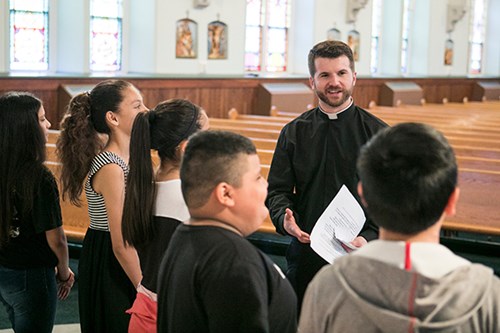 Raised on a horse farm in eastern Kentucky, Deacon Danny Taylor attended Eucharistic adoration weekly with his mother. His faith as a child was strong, but as he entered his teenage years, things began to change.
"I think everyone goes through a time where they are searching for meaning. I found my way back when I began to further appreciate the beautiful things I learned in the Catholic faith when I was younger – solidarity with my neighbor, that we are all one body in Christ, and that we are all working toward heaven and happiness together."
That history of searching combined with six years of priestly formation at Saint Meinrad has helped transform Deacon Taylor, from the Diocese of Lexington, into a compassionate and pastoral parish leader.
"I owe the man I am now to Saint Meinrad's formation program of human, pastoral, spiritual and academic formation," he says. "Saint Meinrad has held me accountable in my responsibilities in ministry, my appreciation of prayer and liturgy has grown exponentially, I've learned how to be a better minister in the classroom, and I've had many chances to put that into practice during six years of pastoral ministry placements.
"I'm excited to start full-time ministry and be there for my parishioners through presence and sacrament, inviting others into a deeper relationship with God through prayer and the Church."
At Saint Meinrad Seminary and School of Theology, we form authentically human, prayerful, pastoral, and gifted priests, permanent deacons, and lay ministers. Will you help us continue this important work on behalf of the Church? Your gift is not only an investment in Saint Meinrad; it's an investment in the people of God.