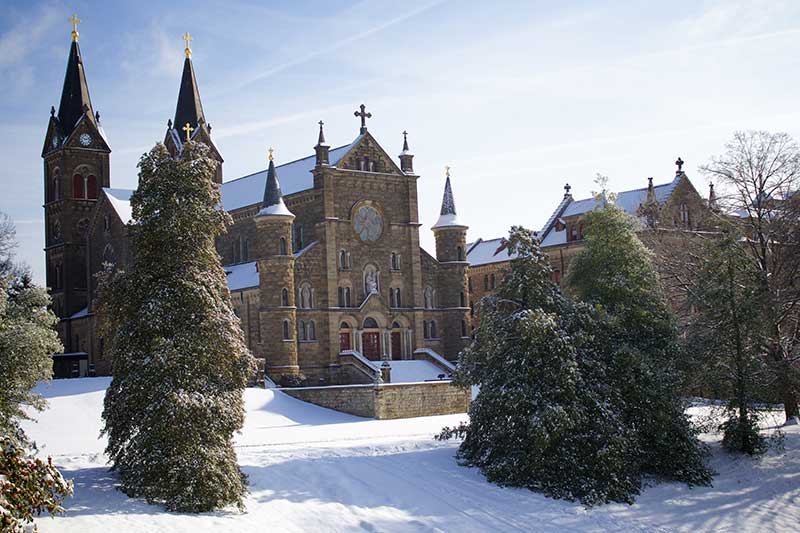 Winter can sometimes be a difficult and long weather epic. With all the news and noise about weather and challenges to families and kids in school, I find it appropriate to speak about how this phenomenon can be a beautiful opportunity to reconnect to Benedictine spirituality and prayer.
Being a rather young man at 33, becoming an oblate of Saint Meinrad was a rather delicate process of juggling life, time and my family life, which has grown and changed considerably since my oblation in 2012. Prayer, time for reflection and just simple sounds of silence can all seem impossible in our daily lives that zip along at light speed, particularly with a new and growing family.
I also travel for a living so I am on the go quite a bit, and my oblation is truly dedicated to finding moments of peace to slow down and appreciate the small stuff, even when that can be a challenge.
But in all the hustle and bustle, God reached out in the most unusual of ways and afforded me some time courtesy of the Polar Vortex. I don't mean to make light of high energy bills and frigid temperatures, but the deep "freeze" has left me and many others with some cabin fever.
The solution: finally, some time for prayer and reflection! The business of life never ceases. And with a young child, sleep is in short supply, to boot. However, being figuratively trapped at home has given me an extreme enthusiasm for some time spent in prayer.
To that end, Saint Meinrad does a fabulous job of enriching oblate life with many tools to assist us in our journey through faith. Books, websites and social media have really branched out in the past year and given us, now more than ever, no excuse not to squeeze in even the smallest amount of time each day to give appreciation and gratitude to God and to live out our spirituality in the best way our life circumstances permit.
While it may sound like a shameless plug, the Honor Your Inner Monk App has practically saved me! This may be the "lite" version of our oblate Liturgy of the Hours, but with a family, no sleep, a job with travel, time is not only a premium but short in supply when found.
The app has practically revolutionized my ability to keep in rhythm during the day, and has assisted in grounding me back into reality. With seemingly unending features, I can literally pray on the go and feel my connection blossom even in the shortest amounts of time, despite my current life situation.
If you haven't taken the time to download the app or can commiserate with my circumstances in your own way, here is a beautiful way to spend some time with the Lord.
This Polar Vortex may have afforded some quality time at home and given us some time spent together as a family, but it has also reignited my oblation. It's given me the unique chance to reconnect, to keep the rhythm and to reflect on time (although short) well spent.
Editor's note: You can find the free Honor Your Inner Monk prayer app (for Android and iPhone) at this link: www.honoryourinnermonk.org.