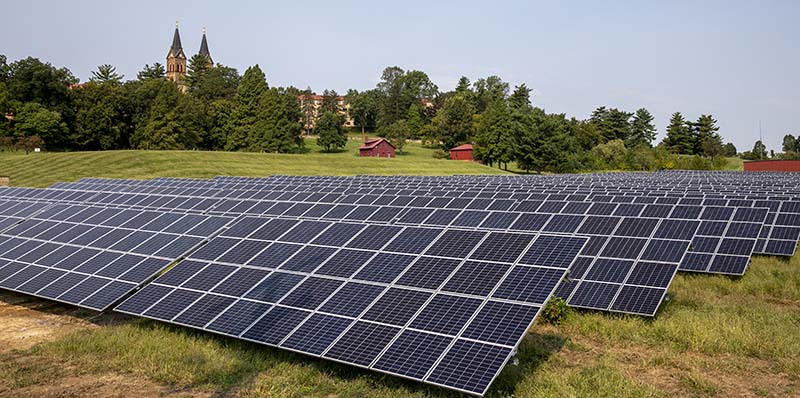 "Climate change is a global problem with grave implications: environmental, social, economic, political and for the distribution of goods. It represents one of the principal challenges facing humanity in our day."
--Pope Francis, Laudato Si, 2015
Finding ways to tread more gently on the earth has become an important priority in a time when climate change has disrupted the planet's ecosystem.
At Saint Meinrad Archabbey, initiatives to reduce power consumption and preserve the environment have been underway for some time. While some of the projects, such as institution-wide recycling, have been easy to implement, others have been complex and required significant investment, according to Physical Facilities Director Mark Hoffman.
In 2015, for example, a geothermal field was installed to provide heating and cooling for the monastery, resulting in about $27,000 annual savings in utility costs. Using the constant temperature of the earth, the system is designed so that underground pipes circulate water that can be heated or cooled, depending on the need.
This year, the monastic community decided to move forward with plans to construct a solar field that will use the sun's power to create electricity, reduce Saint Meinrad's dependence on fossil fuels, and reduce its carbon footprint. "The solar field will produce about 30 percent of our electricity," he says. "The field has been sized accordingly to be the best stewards of our resources. At this point, we are not installing facilities to store the generated electricity, but that is something to be revisited as costs decrease over time with advancements in technology."
Saint Meinrad had been interested in solar power for several years. The cost was too great, and it didn't make financial sense to move forward at the time, according to Hoffman. In late 2019, Archabbot Kurt Stasiak, OSB, was talking with a benefactor, Gib Verkamp, who mentioned that his nephew, Kevin VerKamp, was a consultant in the solar energy field. A meeting with Kevin jumpstarted the project and led to finding a contractor, Johnson Melloh Solutions of Indianapolis, IN.
Although Saint Meinrad was interested in a solar project, Johnson Melloh took a comprehensive look at the Archabbey's energy usage and what opportunities were available to reduce it.
In addition to installing the solar field, the company recommended several other programs to reduce utilities. One was to switch all lighting throughout the buildings and on campus to LED. When the project is complete, all the incandescent, halogen, fluorescent and metal halide bulbs will be replaced with LED lights that will last longer, use less energy and be more eco-friendly.
Hoffman says the energy savings on the two projects, along with other initiatives being completed in-house, is expected to save more than $250,000 annually. Once the project is complete, additional incentives are available and will be applied to further reduce the cost.
Saint Meinrad has considered a solar installation over the past seven or eight years, Hoffman says, but the installation costs were high enough that the payback period made the project unjustifiable. "The cost of the panels has decreased 60% over that time," he says. Now the solar project is expected to pay for itself within 12 years.
The 3,000-panel field is located on about four acres along Indiana 545. The decision to locate the field in a highly visible part of campus was made because it offered the three elements needed: access to open sky, flat terrain and close proximity to utility connections, Hoffman says. A low-growing pollinator habitat will be planted beneath the panels that will benefit the ecosystem. This, in turn, will benefit the local agricultural community as pollinators play a vital role in producing healthy crops.
The cost of both the solar field and the new lighting is about $3.8 million.
More green initiatives are expected in Saint Meinrad's future with the establishment of a Green Fund. The savings from the current projects will be set aside to fund more initiatives. "This project is a great endeavor for Saint Meinrad, not only as a means of reducing our costs, but also to be a trailblazer for institutions such as ours," Hoffman says.