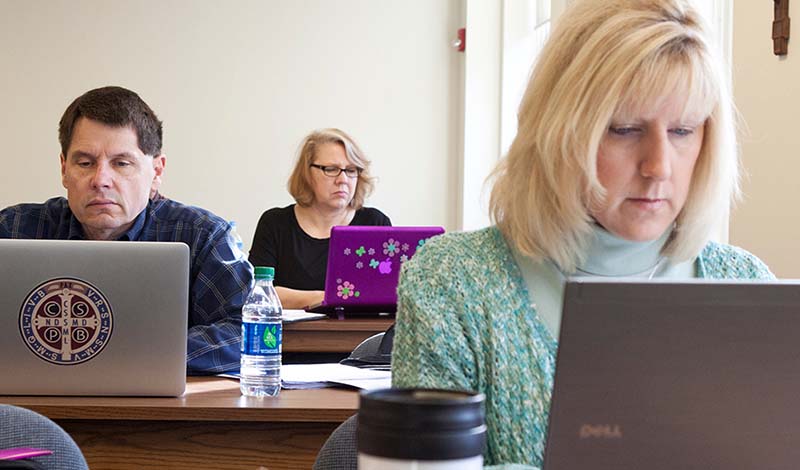 My college years and learning to write code are well behind me; I am no techie. However, I do appreciate technology. I even find beauty in a well-designed MacBook Air, sleek phone, or smart washing machine.
I get excited by avenues opened up by technology, like the development of the Square that allowed mom-and-pop businesses to process credit cards with a relatively small investment. Or the stunning images a 3-D ultrasound creates, thus making it impossible to deny that a human being is forming in the womb.
Beyond the products, I marvel at the human creativity and ingenuity that bring them to us. I do recognize the God-given gifts that make it all possible. I am mindful of and thankful for what they might reveal of God.
I like the way technology allows me to keep in touch with family who are 500 miles away and can bridge 5,000 miles in milliseconds to connect me with siblings, aunts and uncles, nieces and nephews. It can and does strengthen already-established bonds of love.
I like the ease with which certain tasks can be accomplished. I shudder at the thought of trying to do all the writing required for doctoral work without a word processor. I enjoy the access to all things bright and beautiful via the internet. I appreciate even more that I can share beauty in all its art forms with others, thanks to digital technology.
Yet, all these and more I do on my own terms. I am not enslaved by it, and still have skills to do without when needed. Why my hesitation about digital technology? Because I see my own children's generation and those right behind them appropriate technology to such a degree that going without it is almost painful for them. Last Lent, quite a few "friends" on Facebook stepped away from it as a Lenten offering. They recognized its hold on their lives. Might digital technology become an idol?
Sometimes I feel that tech devices are replacing rather than augmenting some of what I consider essential human qualities and interactions: the art of conversation, the ability to reason beyond clichés, committing things to memory because they are worth it, to organize our life, to pay attention, to listen even when it is difficult ….
When your phone chides you to get on the road or you'll be late for an appointment listed on your calendar, have we given up some responsibility for our actions or is it just a convenience? Are we losing skills – like reading a map, finding our way – by overly relying on technology?
Perhaps what makes me pause most regarding digital technology is that we make use of it mindlessly because our collective reflection on it is lagging behind the rapid rate of change and development in the field. When do we ask as a culture/nation/people of God the question: should we do XYZ just because we can? 
Where is the sacramental in digital technology? Is it in the vivid colors it produces? Is in the sharp, clear images? Is it in its fastness and vastness? Is it in its pervasiveness? Is it in its capacity to unite us? Is it in its ability to simplify tasks and lighten our load? Is it in its capacity to make us wonder, to ignite our imagination, to disclose our world on a scale that ranges from the nano to the cosmic?
If I truly believe in the goodness of the created order, and that order reveals something about God, then digital technology that is the work of human hands (and minds) can be the place of encounter, of "strong moments," despite my hesitations. It is our/my duty to counter the ways in which it can be abused, to learn of it and teach others about it so digital technology might become an explicit place of human-divine encounter.