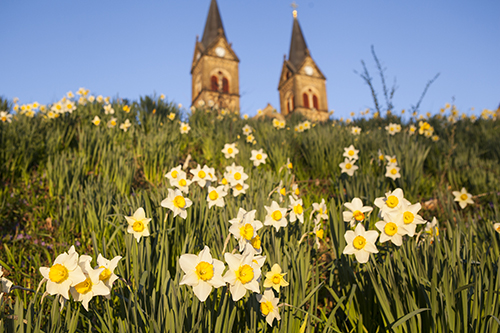 "With the ready step of obedience, they follow the voice of authority in their actions."
Rule of St. Benedict 5.8
Easter joy to one and all!
Part of what makes Easter joyful for the Christian is the fact that "through the resurrection of Jesus Christ from the dead" we, too, enjoy new life (1 Peter 1:3), because in Christ we have died to the old self and risen to new and more abundant life (Rom. 6:5-11).
Easter joy is, in a sense, a goal of the monastic journey, so I'd like to use it as a lens for understanding why "the ready step of obedience" is so fundamental to the Benedictine way of life.
St. Peter's First Letter is addressed to "the exiles of the Dispersion," implying that we Christians are to see ourselves like the Jews of the 6th century BC, whose land and whose capital city, Jerusalem, were taken from them by a hostile nation (Babylonia) and who were taken by force to foreign lands to live in exile.
To hold firm to their identity, now "scattered among the nations," the Jews of that time had to remain faithful to God's law, the covenant, and continue to pass on the stories that formed the core of Jewish identity; in short, they had to continue to understand themselves as "a people peculiarly God's own" (Deut. 7:6).
St. Peter writes that we Christians must also see ourselves as having been scattered and living in exile, dispersed among the nations, dwelling within an empire hostile to our sense of identity as belonging to Christ - "a chosen people, a royal priesthood, a holy nation" (1 Pet 2:9-10).
So while in exile, to maintain our identity, writes Peter, we must be centered on the person of Jesus Christ, who is the fulfillment of the Law of God, and act in obedience to him, as those "sprinkled with the blood of the Lamb of God" (a reference to the ancient atonement rite of the Jewish Temple; cf. Lev. 16) - thus also rooting our identity in the holy Eucharist.
Our identity with Christ is both expressed and strengthened by our obedience to him. Our desire to imitate his ways and to live according to the precepts of his Gospel, empowered as we are by his Spirit, which we received in holy baptism, roots us in the person of Jesus Christ.
So, "ransomed" from the futile ways of the world, "by the precious blood of Christ," we are called by Jesus Christ to be formed by the patterns of God's desire as revealed by Jesus, rather than by "the desires that you formally had in ignorance" (worldly desire; 1 Pet 1:14-19). Listening carefully to the "voice of authority," monks are called to witness to Christ by our actions and the way we live together in community, centered on the Gospel.
Holy obedience establishes and roots our identity as those belonging to God in Jesus Christ; having his Name, which is above every other name (Phil. 2:9), and sharing his Risen Life as the core of our new identity. This is as it should be for all who exclaim Alleluia and share in the joy of holy Easter!