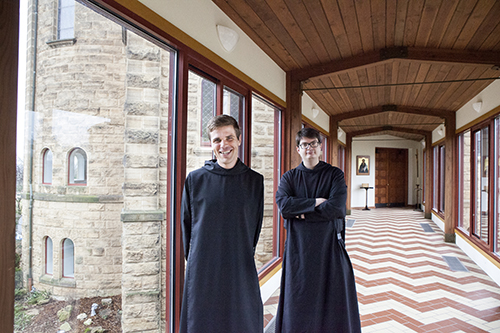 Read the transcript of this episode
Before we take a break from our podcast schedule this summer, we've released another episode of "Echoes from the Bell Tower" about music.
When we produced the last episode on chant, we had plenty of leftover content. So this episode focuses on composing music. The two monk composers featured in this "Echoes" podcast discuss how they view the work of composing.
Fr. Tobias Colgan, OSB, has been "an accidental composer" for 47 years. More recent to the composing game is Br. Joel Blaize, OSB, one of our podcast hosts.
We think you'll enjoy this behind-the-scenes look at bringing prayer to life.
If you'd like to hear more from Fr. Tobias' "Gentle Shepherd" recording, the CD is available from the Scholar Shop
We're now taking a short break until fall, when we'll pick up with more episodes. Please subscribe to iTunes, Stitcher or wherever you get podcasts and download "Echoes from the Bell Tower" so you won't miss the new fall episodes.
Vote for Our Podcast!
Just for fun, we've entered the Podcast Awards contest - and we'd love to have you vote for us! Here's how it works:
Visit the website www.podcastawards.com.

Click the blue banner at the top of the page, titled "Nominations are Open."

This takes you to a registration page, where you register with your name, email address and a password.

Then, select the podcasts you wish to vote for in a variety of categories. "Echoes from the Bell Tower" is listed in the People's Choice category and in the Religion and Spirituality category.
You can vote only once, and voting ends July 31. The final slate of podcasts to be voted on will be determined by the number of nominations/votes each show receives.
A panel of 350 podcasters, listeners, journalists, thought leaders and sponsors will independently review and vote to determine a winner in each category. Winners will be announced on September 30.