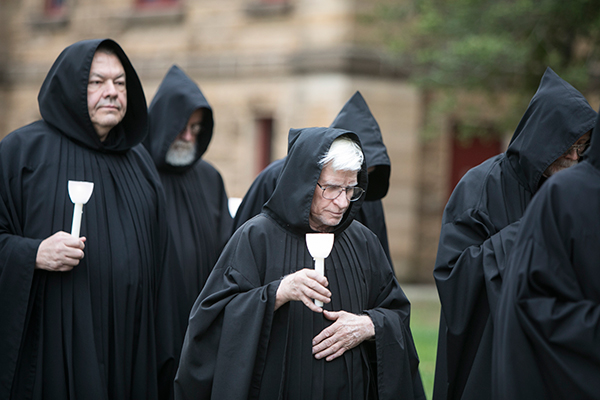 "Renounce yourself in order to follow Christ (Matt 16:24; Luke 9:23)."
Rule of St. Benedict 4.10
One of St. Benedict's primary influences was an earlier writer in monastic spirituality and traditions: St. John Cassian (died in 420). In Cassian's conferences, he reminds monks, and by extension all who want to be more deliberate about following Christ "to your heavenly home," that we must do so by the process of conversion.
Conversion is about change – or being changed. What must change is our way of behaving, or really, our way of being human. Behavior is rooted in attitudes and ways of thinking. We are motivated to act in ways that correspond to the way we think about things. For Cassian, taking his lead from St. Paul's Letter to the Philippians, to be changed amounts to adopting the "mind" or "attitude" of Christ (Phil. 2:1-5). To have the mind of Christ is to see and consider things as Christ does.
To do this in practical terms, we have to be released from our old ways of thinking. We have to give our consent to what the Spirit of Christ wants to do in us to better correspond to Christ's ways in order to "live your life in a manner worthy of the gospel of Christ" (Phil 1:27). Cassian writes about three renunciations that form the basis of changed lives. (The Greek word metanoia is the biblical word translated into English as "conversion" or "repentance" – it literally means to change one's mind or thinking).
First, Cassian writes we must renounce attachments to worldly goods – the stuff we collect because we hoped it would make us happier, or feel more secure and less vulnerable. Benedict says we must renounce the need to possess things for ourselves, realizing that what we have is from God and is meant to be shared.
Secondly, patterns of worldly desire that motivate us to behave in arrogant, controlling, or even manipulative ways must be renounced. For example, one's craving for success can be so fierce that we are virtually incapable of ever admitting being wrong. Another related attitude is our attachment to approval, or forms of demonstrable appreciation, which can suggest a deep "need" for being perceived as indispensable.
These are just two of a multitude of worldly attitudes that are rooted in our old, earthly insecurities. Benedict writes that the monk must be so detached from these interior dispositions so as to be willing to "judge others as better than one's self, and to be content with the lowest and most menial treatment" (RB 7.51; 49) - the stuff of humility.
Finally, the monk must renounce earthly concerns that inhibit our intention to be true citizens of the kingdom of God. Benedict incorporates this renunciation by counseling the monks to "yearn for everlasting life with holy desire" (RB 4.46). Be cautious here – neither Cassian nor Benedict is interested in monks becoming so fixated on "heaven" that we forget earthly suffering and injustice.
No, we must see in the suffering of others and the injustices of our society what Jesus saw, and we stand where he stood – with the least among us – to work to remedy injustice because God wants to transform human society in and through Jesus Christ! We are called to stand firmly rooted "in Christ" (God dwelling in the world).
Christians are those who are "called out" (in Greek ecclesia - the biblical word we translate into English as "church") because we are called by God from within the world to adopt the mind of Christ, given out of love for the world and for its redemption (John 3:26). Christians are "to leaven" the world by spreading his Gospel (Matt 13:33) and by exemplifying a new way of being human.