Br. John Mark Falkenhain, OSB
Department

Pastoral Studies

Title

Adjunct Assistant Professor of Psychology
Education
BA (Christian Brothers College, 1988)
MS (St. Louis University, 1994)
PhD (St. Louis University, 1997)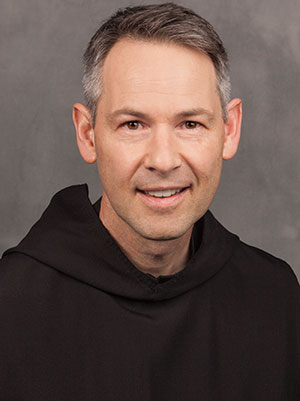 Biography
Like the clay in the hands of a potter, Br. John Mark Falkenhain has found freedom in not always knowing, not always understanding, but trusting and rejoicing in the shaping force that gives him life.
 As any potter like Br. John Mark knows, clay is capable of becoming something beautiful in the eyes of the one who molds it, but only through the labor of obedience. As a monk, he also knows that true obedience is rooted in the commitment of love. Although that is not always easy, it is why he came to the monastery - and why the monastery came to him. The joy of that discovery is evident in his infectious smile and the abiding twinkle in his eyes.
"I've grown to love more and more who God created me to be, not only with my talents and gifts, but also in my limitations and weaknesses. I'm thankful that I am who I am, and for reasons I don't understand, being a monk is just that - who I am," he says. "It is my response to who God has created me to be. I am grateful for my vocation because it makes no sense to me. I don't know why I was called, but just know that once I discovered it, I love it and want to continue being a monk."
The capacity to trust God when nothing seems to make sense is the key to discerning any vocation, and if that is something Br. John Mark has given a lot of thought to, it is only because he's had to. The younger of two brothers in a Catholic family, he was born in Belleville, IL, and spent time growing up in Los Angeles, Toronto and St. Louis. Religious life began to become a serious consideration while in high school, when the Marianist Brothers, Christian Brothers and the bishop of Memphis (now Most Rev. Daniel Buechlein, OSB, archbishop of Indianapolis) expressed interest in him. He began attending daily Mass and getting involved with retreat programs.
"That's when I began to have a more personal relationship with my faith. Community was really important to me, or the social aspect of faith," he said.
Still wrestling with the question, he attended Christian Brothers College in Memphis, earning a bachelor's degree in psychology in 1988. He took his first job as director at a Marianist retreat center for high school students and young adults in St. Louis, where he lived in community with the Marianists as a lay person. "I knew that I was being called to religious life, but kind of fought it for a while," he said.
Curious, but not knowing much about monastic life, he participated in an observance program at St. John's Abbey in Collegeville, MN. Although it would take a little longer for the flame to grow and spread, that is when something ignited in his soul. "I was totally swept off my feet by monastic life without expecting it at all. I just fell in love with it," he said. "I was willing to sell all I had to buy this pearl of great price."
He entered St. John's as a candidate. However, after three months he felt the timing wasn't quite right and he left the community, although he remained committed to further discernment. On the train ride back to St. Louis, where he would pursue and earn his master's degree and doctorate in clinical psychology, he was praying the Divine Office when the above passage from Psalm 92 struck him in a deep way.
"I knew then there was some design in this that I couldn't see," he said. "But as time went on, I just knew I wanted to be a monk."
Year after year, he continued to examine the question as he studied and worked. He lived again for a time with the Marianists, occasionally visiting Saint Meinrad for weekend retreats.
All the while, he advanced professionally. Upon completion of his education at St. Louis University, he lived on his own and worked at Children's Hospital in Columbus, OH, as a psychology intern, and then at Cardinal Glennon Children's Hospital in St. Louis, first as a resident and then as a staff psychologist.
He was also an adjunct assistant professor with the Department of Pediatrics at the St. Louis University School of Medicine. Marc Falkenhain, as he was then known, was steadily building an impressive career in the area of pediatric psychotherapy, clinical assessment, consultation and research. He had a nice apartment and good friends.
Yet something was missing. Well into his 30s, he was lonely and unhappy living on his own, and that mysterious desire for monastic life sparked in his heart years earlier continued to grow. "I wasn't responsible for anybody, and nobody was responsible for me," he said. "I hadn't made myself live for something other than me."
The serious illness of a good friend became a turning point. Providing the perspective he needed, his friend told him, "You need to do what you feel is right now. If you want to be a monk, do it."
So, in his mid-30s, he came to Saint Meinrad to become a monk. Although his novitiate year was admittedly difficult at times as he adjusted to his new way of life, Br. John Mark says he has never been happier. "I have felt so terribly free, because I had really renounced all the things that were important to me. It's not that they were bad, but I just had to let go and trust, deciding to act without knowing, believe without seeing. Eventually, I discovered that doesn't mean rejecting things like friends and relationships, and a career, but giving up control of them."
Full measure and flowing over, the things Br. John Mark gave up began returning as he grew into and allowed himself to be transformed by the monastic way of life. Having made solemn vows in 2006, he continues his work as a psychologist and researcher, teaching courses in the School of Theology on human development and sexuality. He also consults, researches and offers programs at Saint Meinrad and at other seminaries and dioceses in the areas of celibacy, psychosocial/psychosexual development of priests and religious, and child sexual offense by clergy. In addition, he works one day a week at Jasper Memorial Hospital, providing psychological services to children and families. His latest research project involved looking at the experience of monks in the first 10 years of solemn profession.
Appointed socius by the abbot in the spring, he also assists in the formation of the monastery's novices and junior monks.
"In lots of ways, I don't see my work as very different from what I was doing before," Br. John Mark says. "Monks aren't terribly different than other people. Monks are very ordinary people who do very ordinary things - but are constantly seeking God in the ordinary. That's what distinguishes us and makes us extraordinary - looking intentionally and intensely at the ordinary in our search for God."
Br. John Mark also enjoys singing and studying chant, and contributes his considerable talents to the liturgical music at Saint Meinrad Archabbey. Since coming to the monastery, he has also learned to play the cello and has taken up pottery. And he has been able to maintain - even deepen - relationships with family members and friends. He enjoys entertaining guests, and his parents, who had some initial doubts about his entering religious life, now make regular and fairly frequent visits to the monastery.
"I can't imagine where I else I could live and pray and do all the things we do here," he said.
Most importantly, his concept of and appreciation for prayer has developed considerably as a monk. "What's really grown for me here is my personal prayer life, without sacrificing the communal aspect, which has also grown. It's become more contemplative."
Coming together with the community four times a day to celebrate the Eucharist and the Divine Office is what really provides perspective for the monk, Br. John Mark says. "You can never really get far away from it before you have to come back to it. It celebrates God's gift of time to us, and it forces us to stop and slow down. When you do that, it's amazing how much time there is, and what a gift it is to stop and live in the present. God is most immediately present to us in the present. Singing in choir is just being aware that God is present and that we're praising Him."
There is no overstating the significance of the Divine Office, or Work of God as St. Benedict termed it, in serving the Church and praying for the world, Br. John Mark says. "What we offer the world more broadly is our prayers, which people count on, but also our witness as people who are devoted to seeking God. Our lives should say to people that God is important."
For those who seek Him, however, God's designs run even deeper, and for the monk it is a personal call to commit one's very being to a particular and diverse community united in its prayer, work and daily life. While challenging, such commitment offers great freedom, Br. John Mark says, because a monk entrusts his will to God's as expressed by his brothers through the labor of mutual obedience practiced each day. Love of God and neighbor as oneself is what the monastery teaches.
"Being in love with these people and this life is why I enjoy being a monk," Br. John Mark said. "Love is volitional sometimes; it requires trying. This is my family. I don't always like them or what they do, but I love them. That's what I came here for, to act in the interest of others and believe that they are doing the same for me."
Doing that requires patience, as well as trust in God's guiding, shaping hands as they mold lumps of clay into vessels of divine grace that pour their lives into one another. "When it comes to vocation, it's not a vocation if it doesn't require obedience, laying aside your own will for someone else," he said.
Br. John Mark offers straightforward advice for those who may be interested in such a way of life, but are struggling to make sense of the yearning in their hearts. "You can read about it all you'd like, but you'll never really know until you've tried it on," he said. "We can wait for the moment to be right, but the moment will never be right. Inevitably, it involves some degree of risk, a leap of faith."
Taking such a leap, though it seemed to make little sense at times, has given Br. John Mark freedom he never knew was possible.
"The only thing that makes sense is Christ and that you love Him and seek Him," he said. "When nothing makes sense except Christ, that's when I am most a monk."