Fr. Godfrey Mullen, OSB
Department

Pastoral Studies

Title

Assistant Professor of Sacramental and Liturgical Theology
Education
BA (Saint Meinrad College, 1988)
MA (Saint Meinrad School of Theology, 1993)
MDiv (Saint Meinrad School of Theology, 1994)
PhD (The Catholic University of America, 2003)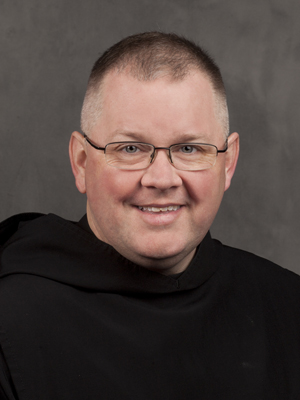 Biography
I have been assigned various works in the Office of the Choirmaster, at St. Benedict Parish, Evansville, Indiana, in our Seminary and School of Theology, including teaching and administration, as a chaplain to the Benedictine Sisters of Virginia, and in our summer youth liturgical leadership program, "One Bread, One Cup."
I love visiting with my family and I enjoy spending time with my friends. I like to travel when the opportunity presents itself. I like to joke around with people and have a good time. 
I came to Saint Meinrad as a diocesan seminarian, and knew that I wanted to be a priest. When I realized that the opportunity existed for me to join a monastic community, that seemed to make more sense for my personality than the more individual life of a diocesan priest.
Email: gmullen@saintmeinrad.edu