Design Your Own Sabbatical
Saint Meinrad offers a place of peace and refreshment for those seeking rest from intensive work and ministry. Plan your personalized sabbatical stay at Saint Meinrad for one to 10 months, between August 1 and May 31. Sabbatical guests are men and women from all areas of Church life and academia, many of whom are involved in ministry.  For priests interested in personalized sabbaticals, please visit our sabbaticals page for priests and presbyterates. 
Opportunities
Prayer: Participate in Liturgy of the Hours and Mass, with the monastic community in the Archabbey Church or with students in St. Thomas Aquinas Chapel. Regular opportunities for Reconciliation and Eucharistic Adoration are available.

Classes and Retreats: For an additional charge, you can take courses in the Seminary and School of Theology for credit or audit. Courses are available on weekdays, weekends or online. Our Guest House offers a regular schedule of retreats.

Study Tours: For an additional charge, take part in 7- to 10-day European study tours offered at various times during the year through Saint Meinrad's World Church Program.

Cultural Events: Lectures, concerts and other cultural events are held regularly on campus. The Archabbey Library art gallery hosts a new exhibit nearly every month. Nearby state and national parks feature nature and historical activities. Louisville, KY, and Evansville, IN, - about an hour from campus - offer a wide range of cultural opportunities.

Wellness Program: On-campus fitness opportunities include a gym with exercise equipment; basketball, tennis and volleyball courts; horseshoe pits; a soccer field; disc golf; a baseball diamond; and lakes, roads, and trails for biking and hiking. Wellness staff offers aerobics classes, personal training and advice on healthy living.

Archabbey Library: If your sabbatical includes a study or research component, our library has primary texts in a variety of critical editions, secondary scholarly literature, and access to many journals, in print and electronic formats. Saint Meinrad belongs to a number of library consortia, and interlibrary loan is available. Staff members can assist with various research needs.
Accommodations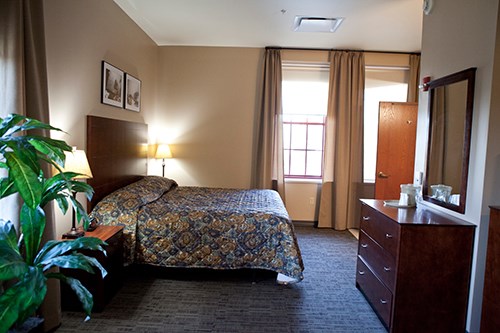 Sabbatical guests stay in comfortable, air-conditioned rooms with private baths. Most rooms are furnished with a full-size bed and equipped with WiFi, phone and voice mail, television access and a small refrigerator. Specially equipped rooms are available for those with physical challenges. Meals are served three times a day in the student dining room.
Additional Services
While at Saint Meinrad, you'll have access to these services (some have additional charges):
Health Service

Laundry facilities and dry cleaning

Tailor Shop

The Scholar Shop bookstore

Saint Meinrad Archabbey Gift Shop

Full-service mail and duplicating center

The UnStable campus pub
Admissions Requirements
Saint Meinrad sabbaticals are open primarily to those involved in some form of ecclesial ministry. Clergy, lay persons and religious are welcome. Sabbaticals can be designed for professors and administrators seeking a place for study, relaxation and prayer.
Fees
Deposit: $200 (applied to final payment, $100 nonrefundable)             
Room and board, per month: $3,200
Transportation (round trip from airport): $50
Cost per credit hour (audit):  $404
Cost per credit hour (for credit):  $607
All fees are subject to change.
How To Apply
To apply for a sabbatical, follow these steps:
For non-U.S. citizens: Mail or fax an official letter of financial support to the address below.

Write two application essays:

Describe your goals and purpose for your sabbatical time at Saint Meinrad.

In 500-1,000 words, describe significant moments in your life leading to this sabbatical.

Submit the essays by email to sabbatical@saintmeinrad.edu, or by fax: 812-357-6762, or by mail to the following address:

Agnes Kovacs
Director of Continuing Formation
Saint Meinrad Seminary and School of Theology
200 Hill Drive
Saint Meinrad, IN 47577
 Arrange for three letters of reference. Ask those writing the letters to fax or mail them to the address above. For religious and priests, one letter should be from a superior.

You will be contacted regarding a background check.
Contact Us
To speak with someone about tailoring your sabbatical experience at Saint Meinrad, please contact:
Agnes Kovacs
Director of Continuing Formation
Saint Meinrad Seminary and School of Theology
200 Hill Drive
Saint Meinrad, IN 47577
Phone: 812-357-6087
akovacs@saintmeinrad.edu
sabbatical@saintmeinrad.edu