Sr. Jeana Visel, OSB
Department

Pastoral Studies

Title

Adjunct Assistant Professor of Spirituality
Education
Iconography training with Marek Czarnecki, Anna Gouriev, and Ksenia Pokrovsky (Hexaemeron Ecclesial Arts, ongoing)
DMin Spirituality (Catholic University of America, 2017)
MA Theology, Monastic Studies (St. John's School of Theology-Seminary, Collegeville, MN, 2013)
BA Religious Studies (Kenyon College, 2001)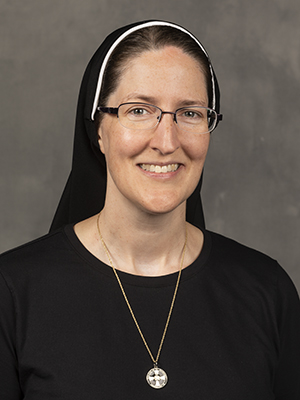 Biography
Sr. Jeana is a sister of Monastery Immaculate Conception, Ferdinand, Indiana, where she entered in 2003, made first profession in 2006, and perpetual profession in 2010.
Her research and teaching interests include Church art, especially iconography, and monastic studies. She also serves as a cantor, and assists with Saint Meinrad's chant offerings.
Her first book, Icons in the Western Church: Toward a More Sacramental Encounter, was published by Liturgical Press in 2016.
She came to Saint Meinrad in 2013 as the Director of Assessment and Orders Documentarian. Since 2015 she has served as Dean of School of Theology Programs and Director of Graduate Theology Programs.