Piano and viola concert
Sunday February 23
St. Bede Theater
3 p.m. Central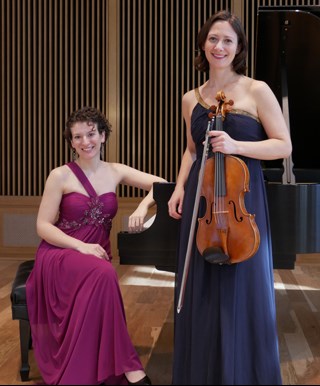 Saint Meinrad Archabbey, St. Meinrad, IN, will host a piano and viola concert on Sunday, February 23, 2020, at 3 p.m. Central time in St. Bede Theater.
Pianist Clare Longendyke and violist Rose Wollman will present a program called "Homage to Nadia Boulager." It consists of four pieces by Boulager and her composition students: Piazzolla's Le Grand Tango, Boulanger's three pieces for viola and piano, Gabriela Lena Frank's Cinco Danzas de Chambi (inspired by Peruvian music and art), and Emile Naoumoff's Viola Sonata.
As a duo, Wollman and Longendyke have premiered, transcribed, and adapted new viola and piano duo works, while unearthing lesser-known gems by well-known composers. Their recently released duo album, Homage to Nadia Boulanger, represents their fundamental goal to prioritize music by living composers, women, and minorities, and music that deserves to reach wider audiences. This CD will be available at the concert for purchase.
Violist Wollman is sought after as a soloist, chamber musician, teacher, and orchestral musician. She has performed in venues around the world including Carnegie Hall, Suntory Hall, the KKL, the Krannert Center, and Constitution Hall.
She currently teaches at Saint Mary's College, the University of Notre Dame, and the Goshen College Community School of the Arts. She holds a D.M. from the Indiana University Jacobs School of Music as well as degrees from the New England Conservatory of Music and the University of Illinois.
Hailed as a superlative pianist by the Journal of the International Alliance of Women in Music, Longendyke is a passionate soloist and chamber musician. She has been a featured soloist in the Fazioli Piano Series in Los Angeles, the Schubert Club of Minnesota's Courtroom Concert Series, the Boston Museum of Fine Arts' SoundBites Series, as well as in performances on NPR's Performance Today. A performer of new music, she has premiered over 100 new works since 2012 and is the founder and artistic director of the Indianapolis-based Music in Bloom Festival.
Longendyke holds degrees from the Boston University College of Fine Arts, the École Normale de Musique in Paris, France, and the Indiana University Jacobs School of Music. She is the director of chamber music and artist in residence at the University of Chicago Department of Music.
The program is free and open to the public. Parking is available in the Guest House and student parking lots. For more information, contact Mary Jeanne Schumacher during business hours at (812) 357-6501. For updates on the day of the performance, call (812) 357-6611.