Four Saint Meinrad monks celebrate jubilees
Monday, July 27, 2020
The Benedictine monks at Saint Meinrad Archabbey, St. Meinrad, IN, celebrated the jubilees of four of their confreres on July 26, 2020. The celebration honored Br. Raban Bivins and Fr. Colman Grabert on their 60th anniversaries of monastic profession, the 25th anniversary of profession for Fr. Patrick Cooney and Fr. Germain Swisshelm's 60th anniversary of priesthood ordination.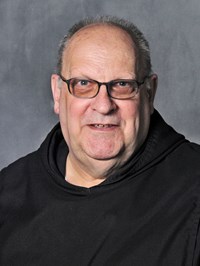 Br. Raban professed vows as a Benedictine monk on May 7, 1960. A native of Owensboro, KY, he came to Saint Meinrad to attend school at St. Placid Hall in 1957.
In the early 1960s, he worked in various assignments at Saint Meinrad, including in the shoe shop, as a volunteer fireman and as house prefect for the monastery. In 1965, he was sent to Saint Meinrad's mission in Peru, where he served until 1979.
He then worked in Saint Meinrad's Physical Facilities Department, where he has been a locksmith since 1984. In 1996, he was appointed subprior (third in leadership) for the monastery. The first Saint Meinrad brother to be appointed to the position, he served as subprior until 2007.
Currently, he assists in the monastery infirmary, works as a locksmith, and is the Archabbey almoner and director of community outreach.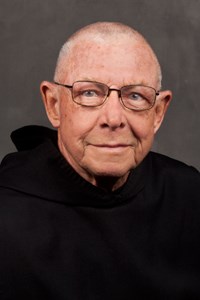 Fr. Colman, a native of Evansville, IN, professed his monastic vows on August 15, 1960. After attending Saint Meinrad High School, College and School of Theology, he was ordained a priest on September 5, 1965.
He earned a licentiate in sacred theology from Collegio di Sant' Anselmo in 1969. He began teaching at Saint Meinrad School of Theology in 1967, where he was an assistant professor of systematic theology until 1994.
For many years, he served as one of the Archabbey's principal organists. He also has served as secretary to the archabbot, house prefect, gardener and in the mail service. Fr. Colman is currently a director for guided retreats as well as one of the monks who offer preached retreats in the Guest House Retreat Program.
Fr. Patrick is a native of Evergreen Park, IL. After earning a bachelor's degree in electronic technology at Purdue University, he served in the Air Force as a research and development engineer for five years.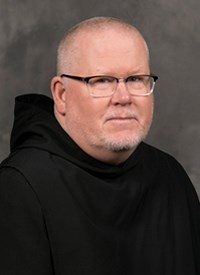 He then studied for the priesthood at Saint Meinrad Seminary and School of Theology. He earned a Master of Divinity and Master of Arts in 1991 and was ordained to the priesthood for the Diocese of Belleville, IL, on June 1, 1991. He later earned a licentiate in canon law from The Catholic University of America.
In 1994, he decided to join the monastery at Saint Meinrad Archabbey and made his first profession of vows on August 6, 1995. At Saint Meinrad, he has served as director of academic and administrative computing, associate formation dean, director of human formation, director of pastoral formation, and assistant professor of canon law in the Seminary and School of Theology.
He also served as a chaplain (lieutenant colonel) in the Kentucky Air National Guard, retiring in 2014 after 21 years of active duty in the Air Force and Air National Guard. He served as the defender of the bond for the Archdiocese of Indianapolis tribunal from January 2005 until July 2017.
Fr. Patrick is a member of the Canon Law Society of America (CLSA), where he has served on the Board of Governors and is currently the chair of the Publication Advisory Board. He also serves as an editor for CLSA's Roman Replies and Advisory Opinions. Fr. Patrick is on the board of directors for the Resource Center for Religious Institutes and is currently the judicial vicar for the Diocese of Owensboro, KY.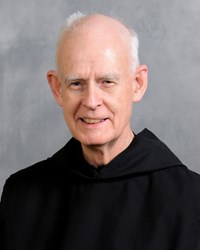 Fr. Germain, a native of Orrville, OH, professed monastic vows on August 15, 1957, and was ordained on September 25, 1960. He completed bachelor's degrees in philosophy and history at Saint Meinrad. He also did graduate studies at Indiana University, Oklahoma University and San Marcos University in Lima, Peru.
From 1960-62, Fr. Germain taught at St. Meinrad's Placid Hall. In 1962, he was a founding member of Saint Meinrad's mission, Los Pinos, in Peru. He taught at the seminary and high school in Huaraz and was an associate pastor at San Juan de Lurigancho Parish in Lima.
While in Peru, Fr. Germain undertook Quechua studies and was founder of Estudios Culturales Benedictinos, which produced a Quechua-Spanish dictionary and several other texts, including a nine-volume manuscript of the New Testament in Quechua.
For about 40 years, Fr. Germain has offered the weekly Saturday Mass at Monte Cassino Shrine. Since 1996, he has been in charge of preparing the readings for the Divine Office in the Archabbey Church. He has found this service especially rewarding, as it provides the opportunity to study Scripture and the works of the Church Fathers.